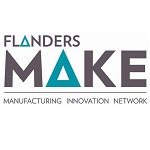 Flanders Make is the strategic research centre for the manufacturing industry. We have establishments in Lommel and Leuven and collaborate with research labs at the 5 Flemish universities.
Flanders Make collaborates with major companies and SMEs. Together they focus on product and process innovation based on the challenges and needs of the industry. The research focus is on 4 technological domains: power electronics & energy storage, mechatronics & design methods, production processes  and people-driven system development. This will, as a first step, yield product and process innovations in 3 fields of application: vehicles, machines and factories.
Flanders Make also attaches great importance to international cooperation in the field of innovation and to participation in European research projects.
By 2018, more than 300 researchers will work full-time at Flanders Make as a unique research community on a joint industrial research agenda.
Website: