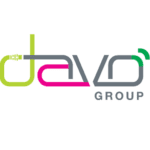 Profile
DAVO Group is a leading provider in IT and telecommunication services. We are specialized in delivering company-wide IT infrastructure, including highly performing wireless networks, structured cabling, DECT/VoIP services, cellular connectivity and specific integrations with Microsoft Teams. We provide services for different market verticals: SMEs and enterprise environments, healthcare, retail, education, MDUs, and public sector. We care about the complexity to deliver you the best experience.
We offer wireless solutions in data, voice and vision, and go the extra mile to provide seamless experiences using VoIP or VoWLAN technologies. As a mobile provider, we can deliver the one-stop-shop experience for our customers through our DAVO Connected Services (telephony, internet, mobile). As such, we can ensure outstanding connectivity.
Given our ambition to go the extra mile for our customers, we are always eager to be up-to-date in our product offerings, including new or booming wireless solutions for different applications.
DAVO – Complex Solutions, Easy Experiences.
Website: